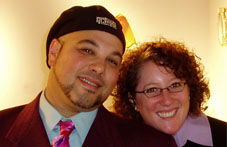 01 May

Hello world! What is this blog all about?

 DISCLAIMER (and such)

Please assume for the sake of argument that any accounts you read from this Blog are fictionalized. I am an artist. I write  works of fiction for entertainment, often my own. I make no claims that any persons mentioned in this blog no matter how life like or amazingly similar in likeness to myself (even when photos are provided) or to any other people I know, or use the names of, are real.  Just because there may be some truth in a story doesn't mean it's all true. In other words,  based on a true story is the same thing as saying based on a total lie; If you don't believe me just watch The FOX News or listen to a politician. The content written here is a record of my opinion at the time I wrote it. Opinions are subject to change, usually immediately after I push the publish button. The opinions expressed here aren't necessarily my own much less that of any of my family, or people that exist in the real world. Everything represented here is a character in the movie that plays inside my mind, as such I reserve all writes to that content represented here. No portion may be made or re-posted or reproduced  in any way without a big fat contract that states, creative control, residuals and merchandising rites, so don't go there unless your lawyer is better than mine and you think you have more time then I do- the pseudo intellectual guy sitting around Tokyo writing about "stuff" for two years…(really) interested parties are encouraged to contact me directly.

My wife Erika and I have decided to Pursue a two year Global Assignment for her as  Director of  Global talent Management in Human Resources for the North American division of a two hundred and fifty year old Japanese pharmaceutics company. I've studied abroad In Undergraduate School in Mexico and Australia and again in Graduate School in Italy. Erika is very well traveled and has been all over the globe  for both business and pleasure Born in  Kankakee, IL graduated  University of Illinois Champaigne Urbanna  and until now has lived on the north shore of Chicago, IL  basically lived in Illinois her whole life. No matter where we've been, Relocating 6000 miles away from the home to one of largest cities on earth in a culture that is vastly different from anything we've known our two small children Lennon age 1 and Sofi age 5 should present some interesting challenges and entertaining stories to share .

Blogging is not something I consider doing for fun or profit- that's an oxymoron & there's only so much time in a day.  I'd rather be doing- well anything else than writing for free, but since I'm about to go through the looking glass again, leave my cushy North Shore Chicago Suburban  life behind and Move to the big city of Tokyo Japan I've got to document something or drown in the surrealistic undertow.  If you are offended  by my stories (I have that effect on some people) please send comments so we may all share your pain or if you'd like to point out spelling errors or the fact that I'm unclear on something that's always helpful. Lastly if you end up being entertained by my stories Please don't forget to participate by adding  your comments. Critique will certainly help make me a better artist/person or at least disprove as I suspect that there is no one will read another random blog from an American expat in Tokyo. at the very least it will keep me doing something creative, which for now with no studio to work in is my strategy to keep from going all "Here's Johnny" Shining style on everyone.