The theme that's intrinsic in my work is an exploration of perception of relationships through experiential narrative. We are surrounded by relationships, most of them seem simple on the surface but are unfathomably complex if you actually stop to examine them. Life can be so challenging, most people avoid looking beyond the surface of anything for fear of what challenges lie beneath it. Challenges shape us as we develop growing up with a single parent, be labeled with learning difficulties by an institution that didn't reward creativity or diverse learners, not relating intellectually with peers. Early in life Challenges were a weight that pulled me below the surface. I couldn't function, on the same plane average people did. I had to seek my own equilibrium. Save my energy and break through the surface barrier to be understood and excepted.
In my Art making I use processes which are physically and mentally challenging such as Hot glass forming, cold working and polishing, Foundry, Creating handmade mechanical and digital electronic devices, as well as creating spaces with large scale multiple element installation with Audio Visual components. for the purpose of bringing the viewer to a place where they experience the surface and can contemplate what exists in the space beyond the surface.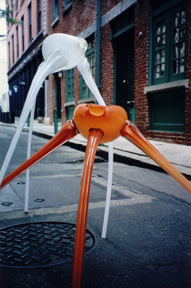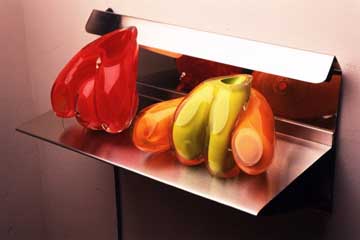 The Tri-pod sculptures reference the body and human scale sometimes taking the form of alien organisms in motion, The human scale of this work invites the viewer to explore the relationship of  the objects to the viewer and each other.
Glass is the perfect medium for this work because of its inherent sensuality and versatility it transcends the traditional relegation as a decorative element and becomes the sculptural medium.  To me it's a fluid medium that represents the three-dimensional manifestation of thought in the way no other material can. It's one of the few materials that can display several seemingly contradictory properties at the same time. Glass can be opaque, transparent, translucent, hard, soft, sharp, textured and polished at the same time.Working hot glass informs me beyond pen paper and imagination, glass is the perfect medium for sculpture. It has the power to break down light to its essence, project a microcosm to a macrocosm, record moment in time; it can be stronger than stone or be as fragile as a frost.
Forming glass is a balance of both physical and mental extremes. Manipulating the alien material in its molten state is a balance of skill, control, science and will.. For me, the cold working process is even more cerebral. Often a piece cannot be created solely through hot formation. The finished piece can only reveal itself through hours of grinding and polishing.  This is another way the glass forming process itself informs my work.
One of the most intriguing aspects about working with glass is the intimate relationship it has with fire and light. Hot glass is a fluid medium, capable of  consuming those drawn to it. Cold, glass can also be shaped and polished to reveal a new perspective of the object of view. Whether dull, polished, opaque, transparent, translucent, hard, soft, sharp, or all of the above at the same time, glass can display several contradictory properties concurrently. As a human I can identify with that; As an artist I utilize the process and media to communicate my opinions as works of art.